Happy friday!
Today i've rounded up some fragrance and wellness gift ideas for the guys. Some which my husband loves and enjoys, and a few unisex products I've discovered that also make perfect gifts.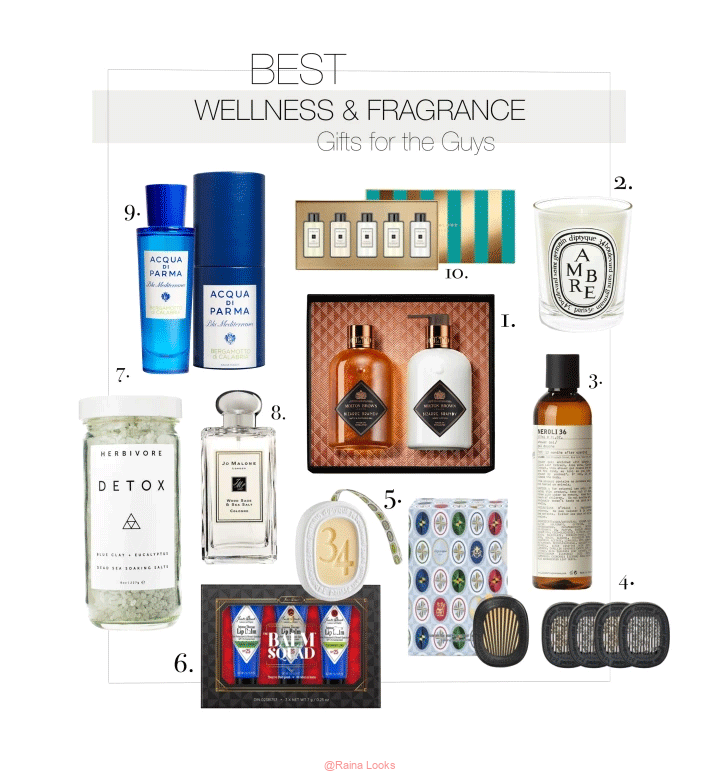 1. Molton Brown Bizarre Brandy Gift Set
I love Molton Brown and find their shower range truly special. The fragrances are quite unique and elevate the whole bath experience. If you are looking for luxe body care options for guys, Molton Brown is one of the first places I'd suggest exploring.
This particular gift set includes a body lotion and a shower gel in their limited edition festive fragrance Bizarre Brandy. Soo delicious!
2. Diptyque Amber candle
Amber is one of my favourite fragrances for all year round. It adds that warmth and cosiness to any space and makes a great addition to one's study or bathroom. What I love about these candles is that the fragrance tends to linger in a room regardless whether the candle is lit; and in smaller enclosed spaces such as powder rooms; not only do they add a decorative touch, they keep it from smelling musty or stale.
3. Le Labo Neroli Shower Gel
Is one of the best sellers they make. It's light, fresh with a hint of Neroli but unlike most mainstream Neroli fragrances out there. Le Labo Neroli is a sophisticated blend of Rose, Musk, Jasmine and Vanilla and a medley of other essences that make this one stand out.
If you enjoy Neroli fragrances, i'd urge you to try this one. You'd be hooked!
4. Diptyque Car Diffusers set
Makes one luxurious fragrance gift! It's a boxed set that comes with a scent diffuser and 4 cartridges. Baies, Rose, 34 and the new Tuberose.
Baies and 34 are great unisex home fragrances and two of my top favourites! This set will make a fantastic gift for any car enthusiast or just about any guy who loves his car.
5. Diptyque 34 Scented Oval
Since 34 is one of my favourite Diptyque scents I also picked out this scented wax oval that makes a great addition to any wardrobe to keep clothes smelling fresh. If you are already a fan of the brands candles, the scented ovals are a nice place to add a bit more luxury to other parts of your home.
6. Jack Black Balm Squad
It's no secret Jack Black Lip Balms are some of the best lip care products out there. Why not gift a good supply that will last a while? This one's a great stocking stuffer for guys. If you don't feel like giving socks (again) this year
7. Herbivore Detox Bath Salts
Is one of my best bath discoveries. It's scented with refreshing Eucalyptus that alleviates muscle pain and soothes body aches. Perfect for running a hot bath after a long day.
8. Jo Malone Wood Sage & Sea Salt Cologne
Makes for a great everyday scent. I also love Blackberry & Bay. Both which hubby has been LOVING ever since I gifted them last year. Overall I find fresher scents to be more on the safer side for gifting as they are universally appealing.
9. Acqua di Parma (Bergamotto Di Calabria)
Is a classic. They are the masters of summer fragrance. I would also recommend checking out the deodorant body sprays and the gift sets which are usually a good deal during the holidays.
10. Jo Malone Travel Collection
Is a luxury set of 5 mini (100ml) Body and Hand Wash. It contains their top selling unisex fragrances: Basil and Neroli, Blackberry & Bay, Wild Bluebell, Orange Blossom (another fave!) and Wood Sage & Sea Salt.
Ideal for the man who's a frequent traveller or enjoys an elevated shower experience.