Lancome has launched an Emily In Paris limited edition collection as part of their holiday collection, and the Lancome x Emily In Paris Eyeshadow Palette is just one of the products within the special collection.
Inspired by Emily's style and characteristic beauty looks, the Lancôme x Emily in Paris collection features makeup, skin care and fragrance products.
As the hero of the collection, the Emily in Paris Eyeshadow Palette comes in a heart-shaped design topped with the Eiffel Tower motif.
Inside, 12 shades come in three color families – from an elegant nude through shimmering brown, chic burgundy, and midnight blue – inspired by the show's most beloved characters.
For skin that stays fresh, the collection includes the Advanced Génifique Serum. Re-create a Parisian lip look with L'Absolu Rouge in 274 Cream Tea nude with a luminous cream finish; L'Absolu Rouge Drama Matte in 505 Attrape Cœurclassic crimson; and L'Absolu Rouge Drama Matte in 82 Rouge Pigalle – a deep, bold red. Each one comes with a new gold jewelry ring and tiny waist, topped with the collection's red heart and pink Eiffel Tower.
Also included is the Lancôme x Emily in ParisIdôle Eau De Parfum in a limited-edition bottle that captures the essence of Parisian beauty and the joyful exuberance of the collection.
The Lancome x Emily In Paris Eyeshadow Palette is $45 / €57, and features a cute heart shape to the compact, in a red design with a raised Lancome rose logo on the top, and a gold foil Eiffel Tower.
Inside the palette, there are twelve powder eyeshadows, and the shades are laid out in three different quads to help you create different makeup looks, and each quad features shades to use for different parts of the eye makeup look, and are named after where they could be used on the eyes.
I hate to admit this, but I'm a sucker for cute packaging and the heart-shaped Emily In Paris Eyeshadow Palette looks très chic on my vanity.
But aesthetics aside, the 12-shadow palette will impress you with its high pigment, mess-free formula and variety of shades that come in both metallic and matte finishes. From warm neutrals to bold jewel tones and pinkish plums, there's a little bit of something for everyone.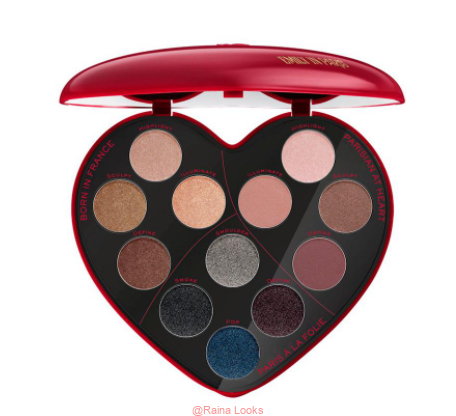 Where to buy: