I saw this benefit dandelion twinkle in little red book brand store of benefit, then i bought it, first of all, the package, the box on the outside is very big and beautiful, after opening, there is only a small highlight inside feeling a little fuss. But the package is really pink and tender, full of girlish feeling. Highlights with a small brush, very cute little, when using the transparent divider off, with a small brush lightly brushed, and then shake off the excess powder, although it is natural, but still follow the principle of a small number of times better ~Brush in the pouch, cheekbones, the bridge of the nose, forehead and chin, etc. Some parts need to carry bright, because the fine powder, color natural, specular highlights less than usual, so it is suitable for a novice like me, usually go out don't need special heavy makeup, air cushion BB bedding, add a simple solid color eye shadow, sweep a bit it highlights can finally go out to happy.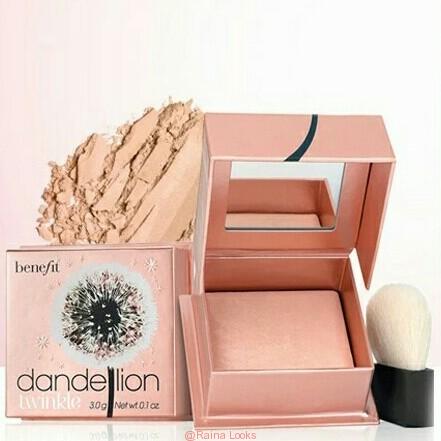 .The discovery of dandelion highlights, in order to collect the order has been hesitant to buy this or sunbeam liquid highlights. I have bought sunbeam before, and when the skin is not in good condition, there will be lumps, but the color is good and natural. My friend asked me what I was hesitating about, and then crazily let me choose this one, very proudly pulling me to the sunny place and pointing to my cheekbones to say look!!I used this today! i use this every day! This color is really! Gorgeous!!!!!Not exaggerated but very useful!!You must try! Seldom see my friend so lively and lovely I bought, result is really! A touch of champagne gold but a touch of rose gold, not the American or European flash or particularly metallic, not the understated but not obvious Japanese glow. There are very fine flash, than Europe and the United States hangs the ordinary powder cosmetics exquisite, under the sun will really incarnate the fairy myself!!Super surprise! I think this kind of highlights kind of product buys mini's good, the province buys the family of formal outfit to carry on the generation. This I used every day for half a month all have no trace, I rekindle to benefit love fire!
And I'll give you some information about the benefit dandelion twinkle . Including, the price, why we love it, how to apply, sense of use, and so on about that benefit dandelion twinkle powder highlighter.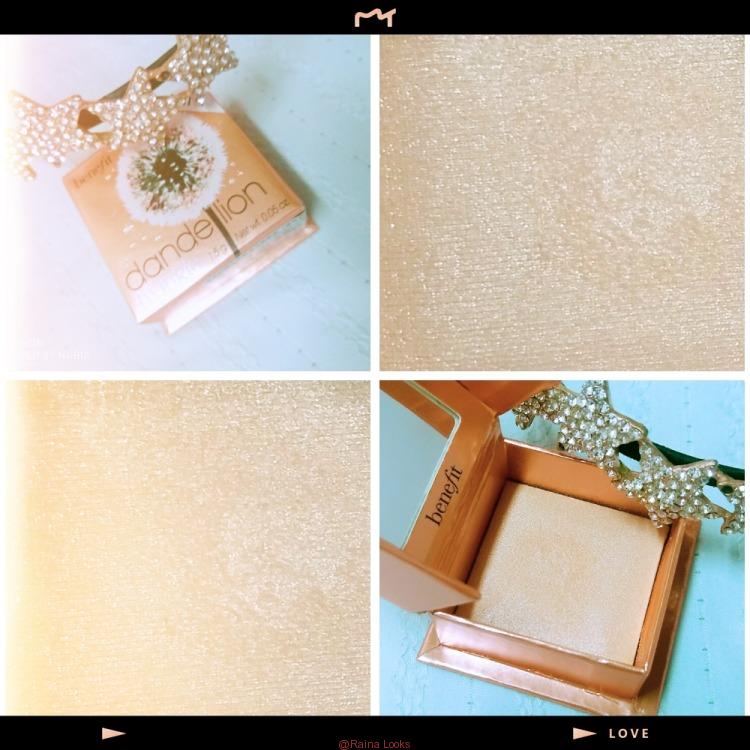 The price:
As for the price, it's rather cheap, It's $29. In the same level of large brands, the price of this benefit dandelion twinkle powder highlighter can be said to be very close to the public. And, it is a good and cheap type, although the price is affordable, but the appearance of what is also very high-end. So, don't worry too much about the price. If you like it, try buying it.
Why we love it:
Shimmer down & get glowing
Get your glow on with dandelion twinkle superfine highlighting powder. Special baked technology delivers a sheer, whisper-light texture and delicate radiance in the perfect nude-pink shade. Wear it alone or on top of your favorite blush or powder for a luminous girly glow.
Quick, easy highlighting
Superfine baked powder provides the same number of uses as your other Box o' Powders
Signature dandy daydream scent with notes of delicate blossom
How to apply:
Go from dull to dazzling!
For a subtle highlight, sweep this nude-pink highlighting powder along the high points of your face…cheekbones, bridge of the nose, cupid's bow and along the temples. For a brightening boost, apply delicately all over the face as a luminizer. Because remember…a little twinkle goes a long way!
Sense of use:
Someone said that: Love that it's: "Subtle and Finely Textured"
I'm really enjoying using this as an everyday setting powder right now. It's a subtle shimmer that It imparts just enough "dewy" look without looking like glitter exploded on your face. I know it says it's a "nude pink" shade, but on my light olive skin it's definitely more nude than pink. I'm super impressed by the fine, lightweight texture of this powder; it feels like a silky smooth cloud when you apply it. Also, I love the scent, like all of Benefit's box powders.
And another one said: I couldn't rave about this more honestly, I've tried soooo many highlights but they don't really compare to this one. It has almost like a glow but you can build it to a bright glow or leave it for a subtle natural glow, it just looks so pretty and I use it every single day but still looks like I've never touched it? can tell it'll last me forever.
Claims:
Get your glow on with dandelion twinkle superfine highlighting powder. Special baked technology delivers a sheer, whisper-light texture and delicate radiance in the perfect nude-pink shade. Wear it alone or on top of your favorite blush or powder for a luminous girly glow.
About the Experts:
The Beautypedia and Paula's Choice Research teams have one mission: To help you find the best products for your skin, whether they're from Paula's Choice or another brand. By combining efforts, we're able to share scientific research and remain committed to the highest standards based on our decades of experience objectively reviewing thousands upon thousands of skincare and makeup formularies in all price ranges. Beautypedia cuts through the hype to bring you product insights and recommendations you won't find anywhere else!
Expert opinion:
As whimsical as it sounds, Benefit's description of Dandelion Twinkle as a highlighting powder with a "whisper-light texture and delicate radiance," is surprisingly accurate. The nude-peach color sheers outs, leaving a luminous finish that subtly twinkles as opposed to overtly highlighting.
Dandelion Twinkle's pressed powder texture is silky-soft to touch and blends out smoothly, whether you use the included brush or your own. The superfine sparkle is just enough to catch your eye and also layers well over blush to give it a soft glow.
The only downside is that the "dandy daydream scent" can potentially irritate skin due to its volatile fragrance chemicals. While it isn't as fragrant as some of Benefit's other products, without it we would have happily given this our highest rating. (See More Info to learn why it's best to go fragrance-free with all of your cosmetics products.)
More Info:
Daily use of products that contain a high amount of fragrance, whether the fragrant ingredients are synthetic or natural, causes a chronic sensitizing reaction on skin. This reaction in turn leads to all kinds of problems, including disrupting skin's barrier, worsening dryness, increasing or triggering redness, depleting vital substances in skin's surface, and generally preventing skin from looking healthy, smooth, and hydrated. Fragrance free is always the best way to go for all skin types.
Overall feeling is a very good, it price is not expensive, so, i will buy back! This benefit dandelion twinkle powder highlighter is the best one I have ever used. The packaging is very high-end, and it tastes good. After using the benefit dandelion twinkle. The skin will become fine and shiny. All in all, the following is my overview of the product. And next it including Pros and Cons. Here are the pros and cons of this full coverage benefit dandelion twinkle powder highlighter. Let's get to know each other.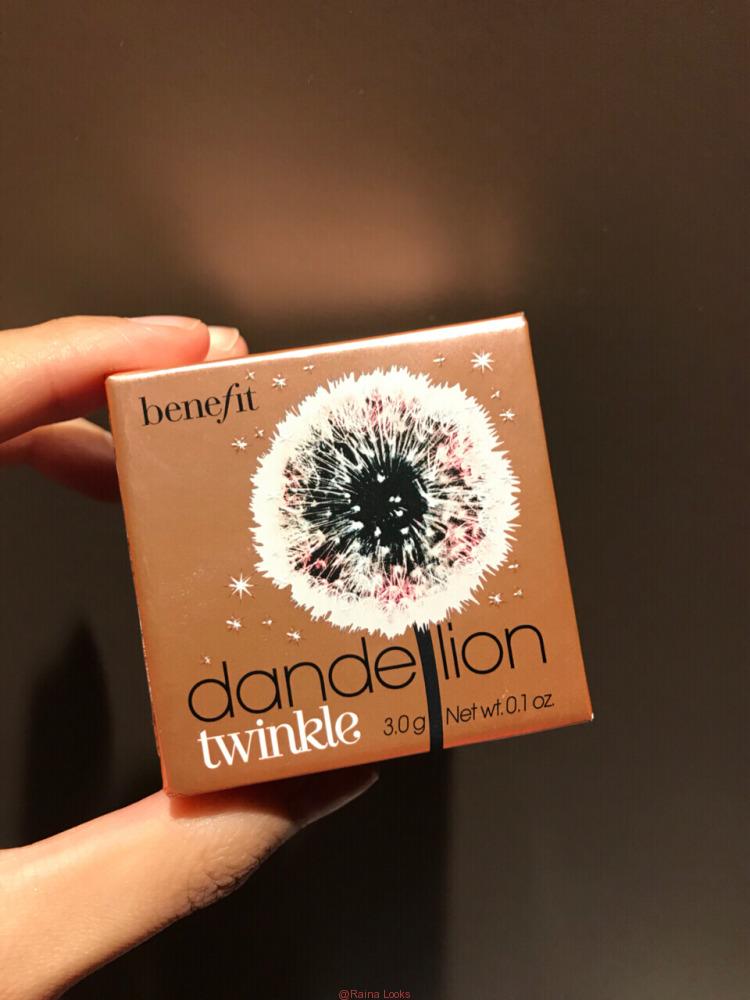 Pros about benefit dandelion twinkle :
1. As promised, delivers "delicate radiance" as opposed to overtly highlighting.
2. Silky-soft, superfine pressed powder blends smoothly.
Cons about benefit dandelion twinkle :
1.Contains potentially irritating fragrance.
Objectively, this benefit dandelion powde applies to all skin types! Then, the appearance is very high-end, the price is very low, the key is that it can also "a box of multi-use", can be said to be the best choice of powder. and is very suitable for use as a product. As long as in the cheekbones, cheek and jaw parts brush this product, facial contour will be more three-dimensional obvious. And then I'll give you some answers or highlight some questions about benefit dandelion twinkle.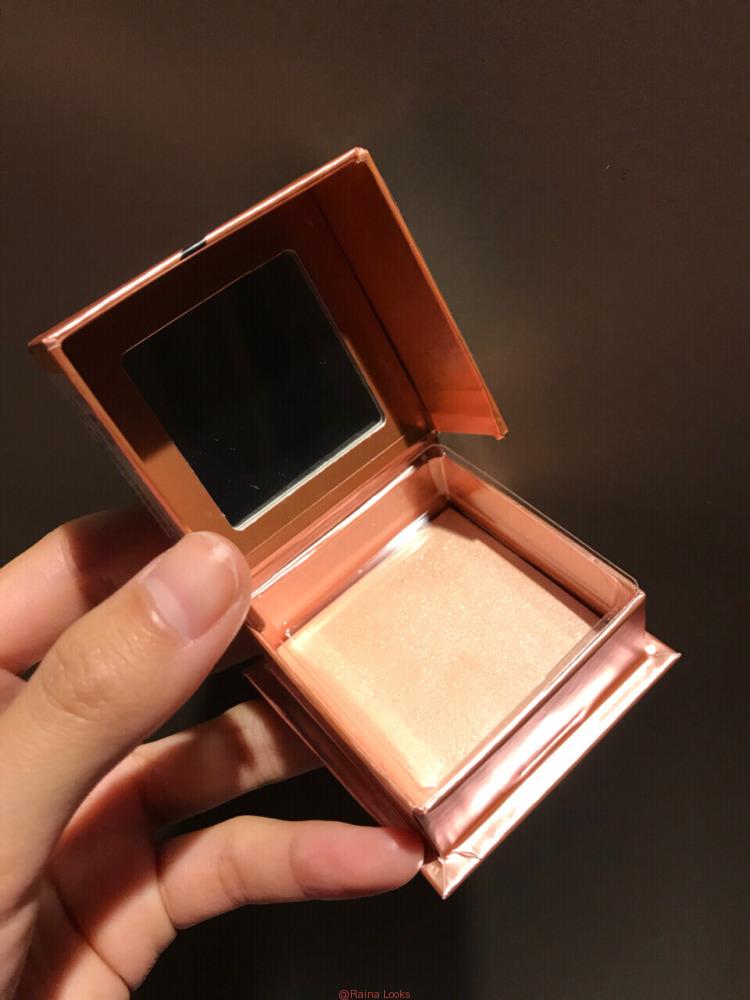 1. What type of skin is best suited for benefit dandelion twinkle ?
As for what type of skin it fits, it's obvious. Since this is a toning powder, it is suitable for oily skin, mix skin, dry skin, So. The beautiful eyebrow of dry sex skin also can be at ease bold use.
2.How much does the benefit dandelion twinkle ?
The benefit dandelion twinkle powder highlighter costs about $29 , of course, i bought this product at a discount , lower prices, and welcome everyone to pay attention to my blog. i will share some deal to help you buy this product at a lower prices. So, this is a very cost-effective facial cleanser.
3. What are the ingredients of the benefit dandelion twinkle?
Synthetic Fluorphlogopite, Boron Nitride, Silica, HDI/Trimethylol Hexyllactone Crosspolymer, Cetearyl Ethylhexanoate, C12-20 Acid PEG-8 Ester, Glycerin, Squalane, Dicalcium Phosphate, Caprylyl Glycol, Ethylhexylglycerin, Polysorbate 80, Potassium Sorbate, Phenoxyethanol, 1,2 Hexanediol, Xanthan Gum, Parfum (Fragrance), Tin Oxide, Hexylene Glycol, Limonene, Linalool, Hexyl Cinnamal, Benzyl Salicylate, Citral, Butylphenyl Methylpropional, Citronellol, Eugenol, Tocopherol, BHT. May Contain: Ci 15850 (Red 6, Red 7, Red 7 Lake), Ci 15985 (Yellow 6, Yellow 6 Lake), Ci 19140 (Yellow 5, Yellow 5 Lake), Ci 42090 (Blue 1 Lake), Ci 45410 (Red 27, Red 27 Lake, Red 28 Lake), Ci 73360 (Red 30, Red 30 Lake), Ci 77007 (Ultramarines), Ci 77163 (Bismuth Oxychloride), Ci 77288 (Chromium Oxide Greens), Ci 77289 (Chromium Hydroxide Green), Ci 77491, Ci 77492, Ci 77499 (Iron Oxides), Ci 77510 (Ferric Ferrocyanide, Ferric Ammonium Ferrocyanide), Ci 77742 (Manganese Violet), Ci 77891 (Titanium Dioxide)
If you have any questions about this benefit dandelion twinkle. please leave a message below. If I know, I will answer for you at once. And I'd be happy to discuss some other issues with you. I wish that you will have a good experience with it.
Thanks for the visit guys !
If you like, please click the following options to share, thank you anyway.